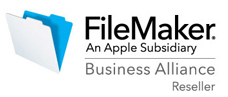 Give us a call at 405-470-1913 or This email address is being protected from spambots. You need JavaScript enabled to view it. , and let us save you money. 
We'll find the licensing option that perfectly matches your needs.

As a FileMaker Business Alliance Reseller, we can help you with the purchase of your FileMaker licenses.


Annual License (AVLA)

Annual Volume Licensing program is a way to get the software needed at an affordable price.
Starts at $9/user/month/

Buy it and own it for one year.

Pay Annually for what you need or uninstall the software. (

Signed contract agreeing to those terms is required.)

Software Maintenance is included each year you renew.

Save a 1/3 of cost over perpetual license.

Get volume discounts on the more you buy. 

Receive a single license key to install for all your licenses. 

Minimum purchase requirements are

1 license of FileMaker Server

5 licenses of FileMaker Pro or FileMaker Pro Advanced

Perpetual License (VLA)
 

Buy it and own it forever - no renewals required.

 No contracts are required

 Pricing is 3x that of Annual Licensing

 

Also includes 1 year of maintenance (see details below).

 

3 times the cost of annual license.

Maintenance for Perpetual Licenses
The perpetual license includes 1 year of maintenance, which means that if FileMaker, Inc. releases a new version in the next year, you would get that new version for free.
Maintenance is renewable every year, and is 20% of the new purchase price when renewed before the maintenance expiration date, versus getting the new version through the upgrade price, which is 60% of the new purchase price.
Important Points About Maintenance
If you are a Volume Licensing or Site Licensing customer with a current Maintenance contract, you must renew your Maintenance prior to its expiration date to take advantage of the Renewal Maintenance price.
Once your Maintenance period expires, you can take advantage of the Expired Maintenance price (40% of the new purchase price) to renew your expired Maintenance contract. Upon renewal, your new Maintenance expiration date will be set to one year from the expired Maintenance order. When you place your order for Maintenance renewal, please reference your previous license certificate number.

If your Maintenance expires and FileMaker announces the availability of an upgrade, you will no longer be eligible for the Renewal or Expired Maintenance price. You must purchase upgrade or new product (if you don't qualify for the upgrade version) licenses to participate in the Maintenance program.
Site Licenses (ASLA or SLA)
Designed for organizations that have a requirement for a larger number of FileMaker products. If you need a minimum of 25 products and are committed to installing FileMaker across your organization then the Site License programs are a great way to give everyone in your organization access to FileMaker software at an exceptional price. Pricing is determined by how many employees you have.
Unlimited deployment. You can use FileMaker Pro, FileMaker Pro Advanced and FileMaker Server throughout your organization.

Easy management. There is no need to track the distribution of licenses in your organization.

Low cost of entry. When FileMaker is in use throughout your organization, this is more cost effective than other licensing programs.

Annual and non-annual versions available.

Filemaker Concurrent Connection Licenses*
FileMaker Server concurrent connections are a paid-for add-on to your FileMaker Server that allow your users to access FileMaker solutions on your server from:
the FileMaker Go app for iPad or iPhone

any device running FileMaker WebDirect in a supported web browser

 
*Concurrent connections differ to FileMaker Pro connections in that you only need to buy as many connections that occur simultaneously from FileMaker Go and/or WebDirect browser users. If your users will be connecting at the same time for most of the time then it's a good bet to buy as many connections as you have users. However, if your users only overlap their usage for 50% of the time then you would only need about 50% of the user number. Each scenario is different, but the good news is that it's very easy to add more connections to your FileMaker Server online if your initial estimate is too low.


Give us a call at 405-470-1913 or This email address is being protected from spambots. You need JavaScript enabled to view it. , and let us save you money.
We'll find the licensing option that perfectly matches your needs.